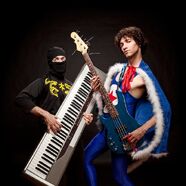 The Ninja Sex Party timeline is a nebulous and controversial topic. This page attempts to piece it together using evidence from the albums, the music videos, and other sources.
Sometime after 155,000,000 BC
Edit
Superpuma kills a caveman while fighting Rhinoceratops.[3]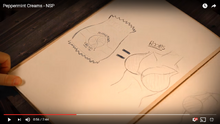 Peppermint Creams are invented.[4]
Superpuma kills a knight while fighting Rhinoceratops.[3]
Danny and Ninja Brian are born. They both wear their iconic outfits as infants.[5]
C. 1613 AD
Edit
Danny most likely has his Bar Mitzvah.[6]
Brian has a "celebrity-filled 35th birthday party held on international waters on a chartered yacht captained by supermodels".[7]
Obiwan Kablowme is born.[4]
Danny ninja-thrusts so hard that he causes the Hindenburg disaster.[8]
Sometime between 1937 and 1978 AD
Edit
April 9th, 1974
Edit
Obiwan Kablowme dies and is buried in the Spooky Ass Graveyard.[4]
Ninja Danny murders somebody, while having a large afro.[8]
The Commodore 64 is "born".[4]
Ninja Danny murders somebody, while wearing a Metallica shirt and a mullet.[8]
Ninja Danny murders somebody, while wearing a sweatshirt tied around his waist.[8]
The Commodore 64 "dies".[4]
Danny and the Manticore go to Manticore Prom together.[13]
Post-September 11th, 2011
Edit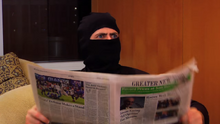 Danny supposedly wins the NYC Penis Competition.[15]
September 14th, 2010
Edit
Danny and Brian meet The Gay Ninjas.[16]
In retaliation for being called gay, Brian shoots Danny with a poison dart, causing him to fall down a cliff, and be shot with an "unnecessary second poison dart".[16]
C. 2009 AD
Edit
Autumn, 2009
Edit
Danny makes a leaf-collecting album.[18]
Winter, 2009
Edit
Danny and Brian throw a "Ninja Sex Party Party", feat. Shalom on the Range.[18][19]
Ninja Brian explodes a building with his mind, likely killing everyone but himself and Dan.[18]
C. 2010 AD
Edit
March, 2010
Edit
Danny wins a Fake Trophy Competition.[15]
October 31st, 2011
Edit
Superpuma kills Justin Bieber while fighting Rhinoceratops.[3]
Rhinoceratops and Superpuma destroy the country of France, including the Eiffel Tower.[3]
Rhinoceratops urinates on Cuba.[3]
During Rhinoceratops and Superpuma's battle, 1,000,000 people die.[3]
Superpuma and Rhinoceratops end their "giant-ass war" when Danny and Brian rock so hard that Rhinoceratops and Superpuma begins to have sex with eachother.[3]
September 2014
Edit
Danny gets a girlfriend and they date for a few weeks.[9]
Danny and his girlfriend go to Boner Prom 3000.[9]
Cocktober 2014
Edit
Late 2014
Edit
February 1st, 2015
Edit
Post-February, 2015
Edit
One Week Later
Edit
Spring, 2015
Edit
Danny, Brian, 'Tude Bro, and 'Tude Dude defeat some thugs.[31]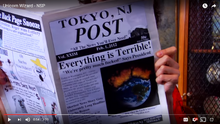 February, 2112 AD
Edit
Sometime Between the 22nd Century and 6969 AD
Edit
Spring, 6969
Edit
Danny and Brian arrive on Earth after time traveling.[24]
A billion-person orgy takes place.[24]
The Dick Elders are killed by Brian.[24]
c. 10,302,000 AD
Edit
"Danny awoke on the surface of Gropinius IV in the #Butt system. Robot Brian was asleep on top of him, his metal mouth surrounding Danny's still-erect and still-not-very-impressive dick."[7]
Daniel Y. Sexbang, dies at the age of about 10,300,400 years old.[7]
Danny's death results in the extinction of the human race.[7]
References
Edit
Ad blocker interference detected!
Wikia is a free-to-use site that makes money from advertising. We have a modified experience for viewers using ad blockers

Wikia is not accessible if you've made further modifications. Remove the custom ad blocker rule(s) and the page will load as expected.